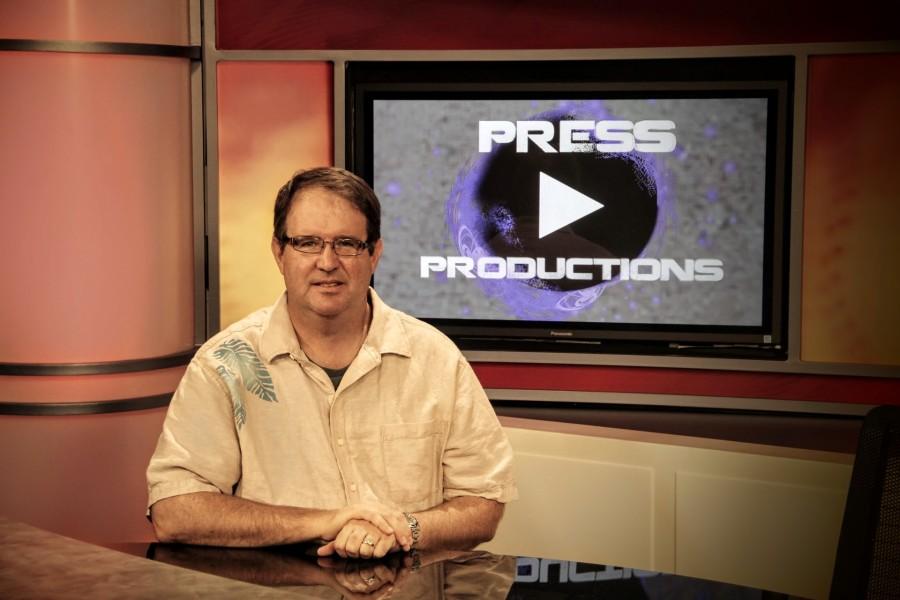 Albert Dupont is the Facilitator of Advanced TV Broadcasting at the St. Charles Parish Public Schools Satellite Center in Southeast Louisiana and Adviser to the Press Play Productions Team.
Dupont is currently the Louisiana State Director for the
Journalism Education Association.
Dupont has guided the program at the Satellite Center since August of 2005. Before becoming a Teacher, Albert worked for 17 years in broadcasting as a news producer, videographer and editor. His last 12 years in broadcasting were spent at WVUE-TV in New Orleans.
Albert Dupont, Adviser
Feb 22, 2017

Destrehan High School 2017 Graduation Ceremony

(Story)

Feb 22, 2017

Hahnville High School 2017 Graduation Ceremony

(Story)

Feb 20, 2017

ATVB Team Competing in National History Day Contest

(Story)

Feb 03, 2017

2017 National Letter of Intent Signing Day

(Story)

Feb 01, 2017

Basketball – Battle On The River Broadcasts

(Story)

Feb 01, 2017

Soccer – Battle On The River Broadcasts

(Story)

Jan 04, 2017

Live Stream to YouTube Using WireCast Play

(Story)

Dec 14, 2016

"That's A Wrap" on the 2016 Season of On The Prowl

(Story)

Dec 08, 2016

Demonstration Video Project

(Story)

Nov 30, 2016

Destrehan On The Prowl Show – November 29, 2016

(Story)

Nov 29, 2016

#5 Landry-Walker vs #1 Destrehan – LHSAA Playoff – December 2, 2016

(Story)

Nov 21, 2016

#9 John Ehret vs #1 Destrehan – LHSAA Playoff – November 25, 2016

(Story)

Nov 17, 2016

John Ehret vs Hahnville Round Two Playoff Game

(Story)

Nov 16, 2016

Production of SCP Today Show

(Story)

Nov 15, 2016

Hahnville On The Prowl – November 15, 2016

(Story)

Nov 11, 2016

Covington vs Hahnville Class 5A Playoff Football Live Broadcast

(Story)

Nov 11, 2016

Destrehan On The Prowl Show – November 10, 2016

(Story)

Nov 11, 2016

Hahnville On The Prowl – November 10, 2016

(Story)

Nov 04, 2016

Thibodaux vs Hahnville Football – November 4, 2016

(Story)

Nov 03, 2016

Hahnville Wins Round One of LHSAA State Playoffs

(Story)

Nov 02, 2016

Destrehan On The Prowl Show – November 1, 2016

(Story)

Nov 02, 2016

Hahnville On The Prowl – November 1, 2016

(Story)

Oct 29, 2016

A Sneak Peek Behind The Production Curtain

(Story)

Oct 29, 2016

Central BR vs Hahnville Volleyball Senior Night

(Story)

Oct 29, 2016

Destrehan On The Prowl Show – October 25, 2016

(Story)

Oct 28, 2016

Hahnville On The Prowl – October 25, 2016

(Story)

Oct 27, 2016

Battle On The River Volleyball – Round Two

(Story)

Oct 25, 2016

Destrehan On The Prowl Show – October, 20, 2016

(Story)

Oct 25, 2016

Hahnville On The Prowl – October 20, 2016

(Story)

Oct 17, 2016

United Way of St. Charles Living United Show – October 2016

(Story)

Oct 17, 2016

H.L. Bourgeois vs Destrehan – October 21, 2016

(Story)

Oct 16, 2016

Ashley Doucet – Arkansas Razorback Football

(Story)

Oct 13, 2016

Haunted History Hike

(Story)

Oct 13, 2016

Destrehan On The Prowl Show – October 11, 2016

(Story)

Oct 13, 2016

Hahnville On The Prowl – October 12, 2016

(Story)

Oct 13, 2016

Battle On The River Volleyball – Round One

(Story)

Oct 07, 2016

Terrebonne vs Hahnville Football – October 7, 2016

(Story)

Oct 05, 2016

Hahnville On The Prowl – October 4, 2016

(Story)

Oct 05, 2016

Destrehan On The Prowl Show – October 4, 2016

(Story)

Sep 29, 2016

Terrebonne vs Destrehan Football – September 30, 2016

(Story)

Sep 29, 2016

Hahnville On The Prowl – September 27, 2016

(Story)

Sep 29, 2016

Destrehan On The Prowl – September 27, 2016

(Story)

Sep 22, 2016

Hahnville On The Prowl – September 21, 2016 – Battle On The River Edition

(Story)

Sep 22, 2016

Hahnville vs Destrehan Football Broadcast – September 23, 2016

(Story)

Sep 22, 2016

Destrehan On The Prowl – September 21, 2016 – Battle On The River Edition

(Story)

Sep 15, 2016

Hahnville On The Prowl – September 13, 2016

(Story)

Sep 15, 2016

Destrehan On The Prowl Show – September 14, 2016

(Story)

Sep 14, 2016

2016 Pink Links Campaign Underway

(Story)

Sep 09, 2016

Press Play in 360

(Story)

Sep 09, 2016

John Ehret vs Destrehan Football September 16, 2016

(Story)

Sep 07, 2016

Hahnville On The Prowl – September 7, 2016

(Story)

Sep 06, 2016

Destrehan On The Prowl – September 6, 2016

(Story)

Sep 02, 2016

Slidell vs Destrehan Football Game

(Story)

Sep 01, 2016

Destrehan On The Prowl – September 1, 2016

(Story)

Aug 31, 2016

Hahnville On The Prowl – August 31, 2016

(Story)

Aug 25, 2016

Jesuit vs Hahnville Football Jamboree

(Story)

Aug 20, 2016

Press Play Trailer Passes Pre-Season Test

(Story)

Aug 18, 2016

2016 Studio Practice and Training

(Story)

Aug 14, 2016

2016 ATVB Team Off To Great Start

(Story)

Jun 03, 2016

Production Trailer Summer Makeover

(Story)

May 25, 2016

Marriage Proposal at JB Martin Concert

(Story)

May 16, 2016

Hahnville Graduation Timelapse

(Story)

Apr 28, 2016

2016 Destrehan High School Graduation Archive

(Story)

Apr 28, 2016

2016 Hahnville High School Graduation Webcast Archive

(Story)

Apr 28, 2016

Advanced TV Broadcasting Course

(Story)

Apr 17, 2016

Satellite Center and Hahnville Broadcasting Student Places "Excellent" in National Sports Writing Contest

(Story)

Apr 17, 2016

Satellite Center Team Members Advance to National Round of the National History Day Contest in Washington, D.C.

(Story)

Mar 29, 2016

ATVB PM Team in 2nd Round of NHD Contest

(Story)

Mar 01, 2016

AM ATVB Class Interviews Author

(Story)

Mar 01, 2016

Press Play Team Participating in National History Day Contest

(Story)

Jan 22, 2016

2016 Satellite Center LipDub

(Story)

Jan 15, 2016

Battle On The River Women's Basketball

(Story)

Jan 15, 2016

Battle On The River Men's Basketball

(Story)

Dec 03, 2015

Hahnville On The Prowl – December 2, 2015

(Story)

Dec 03, 2015

Destrehan On The Prowl – December 2, 2015

(Story)

Nov 27, 2015

Parkway vs Destrehan Quarterfinal Playoff Game Live Stream

(Story)

Nov 27, 2015

Destrehan On The Prowl – November 25, 2015

(Story)

Nov 20, 2015

Press Play Produces Webcast of Barbe vs Destrehan Game

(Story)

Nov 17, 2015

Hahnville On The Prowl – November 17, 2015

(Story)

Nov 17, 2015

Destrehan On The Prowl, November 17, 2015

(Story)

Nov 12, 2015

Destrehan On The Prowl – November 10, 2015

(Story)

Nov 12, 2015

Hahnville On The Prowl – November 10, 2015

(Story)

Nov 06, 2015

Hahnville On The Prowl – November 4, 2015

(Story)

Nov 06, 2015

Destrehan On The Prowl – November 4, 2015

(Story)

Oct 30, 2015

H.L. Bourgeois vs Hahnville Live Webcast

(Story)

Oct 28, 2015

Destrehan On The Prowl – October 26, 2015

(Story)

Oct 28, 2015

Hahnville On The Prowl – October 26, 2015

(Story)

Oct 26, 2015

Living United features Healthy Living

(Story)

Oct 21, 2015

Hahnville On The Prowl – October 20, 2015

(Story)

Oct 21, 2015

Destrehan On The Prowl – October 20, 2015

(Story)

Oct 21, 2015

Episode 5 of Inside SCSO Available

(Story)

Oct 18, 2015

East St. John vs Destrehan Broadcast

(Story)

Oct 15, 2015

DHS vs HHS Volleyball Games

(Story)

Oct 15, 2015

Hahnville On The Prowl – October 14, 2015

(Story)

Oct 15, 2015

Destrehan On The Prowl, October 14, 2015

(Story)

Oct 06, 2015

Destrehan On The Prowl – October 6, 2015

(Story)

Oct 06, 2015

Hahnville On The Prowl – October 6, 2015

(Story)

Oct 05, 2015

DHS vs HHS Volleyball Broadcast

(Story)

Sep 29, 2015

Hahnville On The Prowl – September 29, 2015

(Story)

Sep 29, 2015

Destrehan On The Prowl, September 29, 2015

(Story)

Sep 29, 2015

2015 Battle On The River Game Broadcast Online

(Story)

Sep 27, 2015

2015 Battle On The River Broadcast A Success!

(Story)

Sep 24, 2015

2015 Battle On The River

(Story)

Sep 16, 2015

Press Play Productions Broadcast Schedule

(Story)

Sep 16, 2015

Press Play to Live Stream Riverside vs HHS Game

(Story)

Sep 16, 2015

Hahnville On The Prowl – September 15, 2015

(Story)

Sep 16, 2015

Destrehan On The Prowl – September 15, 2015

(Story)

Sep 16, 2015

Hahnville On The Prowl – September 8, 2015

(Story)

Sep 16, 2015

Destrehan On The Prowl – September 8, 2015

(Story)

Sep 16, 2015

Hahnville On The Prowl – September 1, 2015

(Story)

Sep 16, 2015

Destrehan On The Prowl – September 1, 2015

(Story)

Sep 15, 2015

Woodlawn vs Destrehan Broadcast

(Story)

Sep 15, 2015

Press Play Productions New Website

(Story)

Sep 12, 2015

Woodlawn vs Destrehan Football Broadcast

(Story)