Satellite Center and Hahnville Broadcasting Student Places "Excellent" in National Sports Writing Contest
Satellite Center Team Member and Hahnville High School Senior Asia Jupiter placed in the "Excellent" Category at the Journalism Education Association and National Scholastic Press Association's Spring Conference in Los Angeles, California.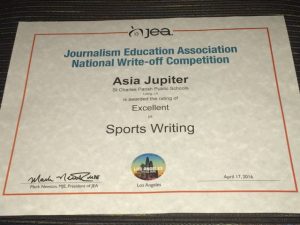 There were approximately seventy students participating in the on-site contest where students attended a press conference by professional cyclist Cara Gillis and the challenges she faces by following a vegan diet. Students then had approximately one hour to write a story about Gillis.
The instructions for the contest asked students to write an "attention-grabbing lead; good story flow with effective transitions; colorful details; evokes emotional impact; use of informative direct quotes; accuracy; completeness; elimination of extraneous material; elimination of libelous statements and knowledge of AP style rules; few convention errors."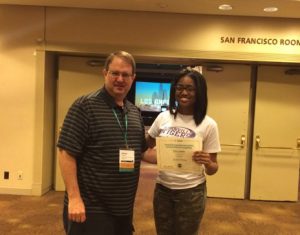 Placing in the Excellent category puts Jupiter in the top percentage of those students competing at the conference.
Jupiter plans on attending Southeastern University in Hammond after graduation with a major in Broadcast Journalism.