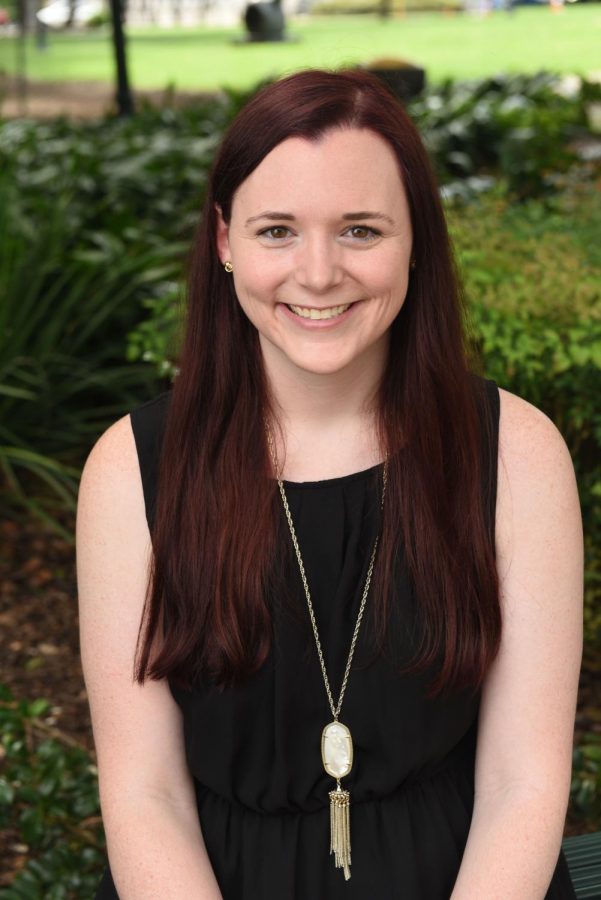 Sam Clement is the Facilitator of the Advanced Television Broadcasting course at the St. Charles Parish Public Schools Satellite Center in Luling, LA and the Adviser of the Press Play Productions Team.
This is Ms. Clement's 2nd year leading the program. Prior to joining education, she worked professionally as a video editor in film and television as well as a multimedia specialist.
She is a graduate of Louisiana State University with a degree in Mass Communication, as well as Destrehan High School, where she took the Satellite Center's ATVB course as a student in 2009-10.
Samantha Clement, Adviser
Nov 30, 2020

Destrehan vs Dutchtown Football- December 4, 2020

(Story)

Nov 25, 2020

DHS vs Ouachita Parish Football- November 27, 2020

(Story)

Nov 20, 2020

On the Prowl Ep. 4

(Story)

Nov 06, 2020

On the Prowl Ep. 3

(Story)

Nov 03, 2020

DHS vs HHS Football- November 20, 2020

(Story)

Oct 24, 2020

DHS vs HHS Volleyball- October 24, 2020

(Story)

Oct 23, 2020

HHS vs Thibodaux- October 23, 2020

(Story)

Oct 23, 2020

On the Prowl- Episode 2

(Story)

Oct 23, 2020

DHS vs Terrebonne- October 23, 2020

(Story)

Oct 20, 2020

DHS Ring Ceremony- October 20, 2020

(Story)

Oct 19, 2020

HHS Ring Ceremony- October 19, 2020

(Story)

Oct 16, 2020

Destrehan vs. H.L. Bourgeois (Homecoming)- October 16, 2020

(Story)

Oct 09, 2020

On the Prowl- Episode 1

(Story)

Oct 03, 2020

Destrehan vs St. James Football- October 8, 2020

(Story)

Sep 27, 2020

Hahnville vs Higgins Football- October 2, 2020

(Story)

Sep 26, 2020

Duel in the Pool: DHS vs HHS- September 26, 2020

(Story)

Sep 25, 2020

Press Play's live stream coverage this fall

(Story)

Aug 06, 2020

Former Team members place in regional contest

(Story)

Jul 03, 2020

DHS Commencement 2020- Part One

(Story)

Jul 03, 2020

DHS Commencement 2020- Part Two

(Story)

Jul 02, 2020

HHS Commencement 2020- Part One

(Story)

Jul 02, 2020

HHS Commencement 2020- Part Two

(Story)

Mar 16, 2020

On the Prowl- Week 7

(Story)

Jan 28, 2020

DHS vs HHS Girl's and Boy's Basketball

(Story)

Jan 27, 2020

Interactive Media Commercial

(Story)

Jan 21, 2020

DHS vs HHS Girl's Soccer

(Story)

Jan 03, 2020

Press Play's live stream coverage this spring

(Story)

Dec 06, 2019

On the Prowl- Week 6

(Story)

Dec 06, 2019

DHS vs. Haughton Football Semi-Finals

(Story)

Nov 22, 2019

On the Prowl- Week 5

(Story)

Nov 22, 2019

On the Prowl- Week 5

(Story)

Nov 15, 2019

On the Prowl- Week 4

(Story)

Nov 15, 2019

HHS vs. CHS – Football Playoffs

(Story)

Nov 08, 2019

Battle on the River: DHS vs HHS Football

(Story)

Nov 08, 2019

On the Prowl- Week 3

(Story)

Nov 01, 2019

On the Prowl- Week 2 HHS

(Story)

Nov 01, 2019

On the Prowl- Week 2 DHS

(Story)

Nov 01, 2019

DHS vs CLHS Football

(Story)

Oct 18, 2019

On the Prowl- Week 1 HHS

(Story)

Oct 18, 2019

On the Prowl- Week 1 DHS

(Story)

Oct 18, 2019

DHS vs ESJ Football

(Story)

Oct 04, 2019

HHS vs ESJ Football

(Story)

Sep 25, 2019

DHS vs HHS Volleyball

(Story)

Sep 20, 2019

Hahnville vs Higgins Football

(Story)

Sep 06, 2019

DHS vs. Bonnabel Football

(Story)