Lady Tigers Softball falls in pitchers duel 1-0
Hang on for a minute...we're trying to find some more stories you might like.
BOUTTE, LA – The Lady Tigers Softball team fell 1-0 Tuesday afternoon to a talented St. Amant Lady Gators team.
The score would have been worse if not for some skillful pitching by Hahnville's Carly Taranto who repeatedly pitched out of jams with runners on-base, including one in the second that led to heated discussions by both coaches.
With runners on first and second in the top of the 2nd, a St. Amant batter hit a ball that struck her team's runner heading to 2nd base. Lady Tigers' 2B Danielle Duplay picked up the ball and fired to Hahnville 1B Courtney Ortego.
Typically in baseball/softball, the runner who was hit with the ball should have been ruled out, with both other runners being safe and a "dead ball" being called.
The LHSAA Handbook doesn't cover this phenomenon, but does state that if, "R1 on 2nd base, B2 hits a ground ball to F6 who is playing deep. The ball is touched by F6 and then hits R1. This is a dead ball and R1 is out. (8.1.2)".
By this logic, the runner should have been ruled out. Instead, the umpires awarded the runner 2nd base. Luckily for the Lady Tigers, Taranto was able to pitch out of the bases-loaded, no-out situation.
The Lady Tigers were in great position to tie the game trailing 1-0 in the bottom of the 6th following a leadoff triple. Unfortunately for Hahnville, the next two batters hit hard grounders to 3rd that the runner couldn't advance on, and St. Amant was able to escape the inning and eventually pick up the victory.
The Lady Tigers are back in action today at home vs. H.L. Bourgeois. First pitch is at 4 pm.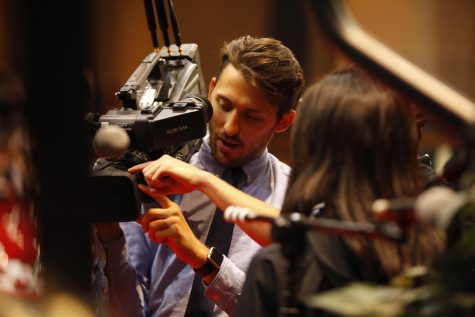 Hunter Robinson, Adviser
Hunter Robinson is the Facilitator of the Advanced Television Broadcasting course at the St. Charles Parish Public Schools Satellite Center in Luling,...