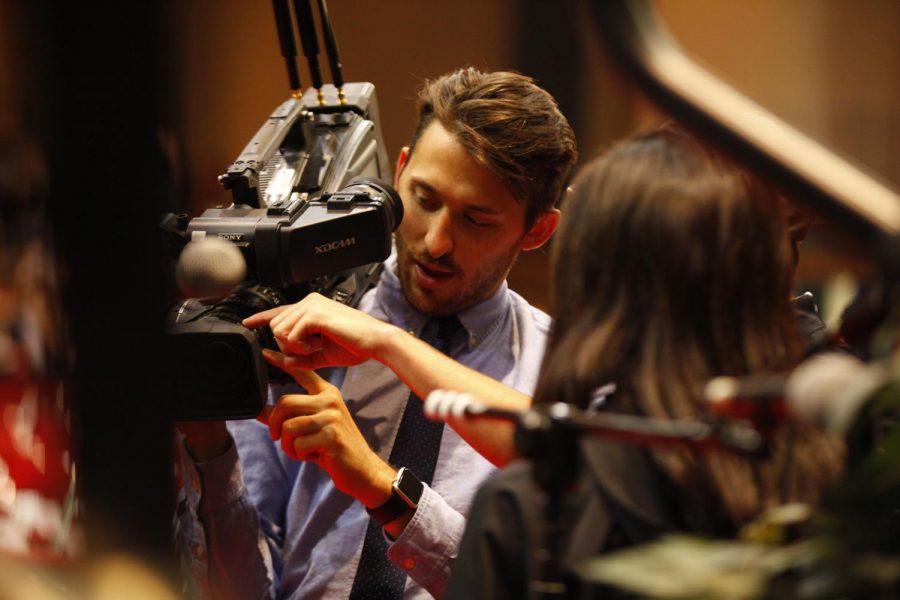 Hunter Robinson is the Facilitator of the Advanced Television Broadcasting course at the St. Charles Parish Public Schools Satellite Center in Luling, LA and the Adviser of the Press Play Productions Team.
This is Robinson's 2nd full year as the program's leader. Prior to joining education, Robinson worked professionally as a news producer, sports producer and play-by-play announcer.
He is a graduate of Southeastern Louisiana University with a degree in Electronic Media, as well as Hahnville High School, where he took the Satellite Center's ATVB course as a student in 2008-09.
Hunter Robinson, Adviser
May 07, 2019

DHS Graduation Ceremony 2019

(Story)

May 07, 2019

HHS Graduation Ceremony 2019

(Story)

Apr 08, 2019

2 Qualify for NHD national competition; another wins scholarship to Normandy

(Story)

Mar 28, 2019

DHS Baseball vs. Thibodaux (2019)

(Story)

Mar 25, 2019

Three Press Play crew members advance to State Round of NHD competition

(Story)

Mar 19, 2019

HHS Baseball vs. HLB

(Story)

Feb 12, 2019

Watch all of our winter sports productions here

(Story)

Feb 08, 2019

Press Play's Spring Sports Schedule

(Story)

Feb 08, 2019

DHS Girls Soccer vs. Central Lafourche (LHSAA Division II Quarterfinals)

(Story)

Feb 07, 2019

Crew members win at Loyola University's Silver Scribe Awards

(Story)

Feb 05, 2019

DHS Girls Soccer vs. Lee Magnet High (LHSAA Division 2 Playoffs – Round 2 – 2019)

(Story)

Jan 30, 2019

Destrehan vs. Natchitoches Boys Soccer (2019 LHSAA Division II Playoffs – Round 1)

(Story)

Jan 17, 2019

HHS vs. DHS Boys and Girls Basketball

(Story)

Jan 17, 2019

HHS vs. DHS Wrestling

(Story)

Jan 14, 2019

Hahnville Boys/Girls Basketball vs. ESJ

(Story)

Jan 09, 2019

Destrehan Boys/Girls Soccer vs. Central Lafourche

(Story)

Dec 21, 2018

DHS vs. HHS Boys and Girls Soccer

(Story)

Dec 05, 2018

Merry Christmas! Find your Christmas Concerts/Performances Here!

(Story)

Nov 26, 2018

ZHS vs. DHS – LHSAA 5A Football Playoff Semifinal (2018)

(Story)

Nov 19, 2018

DHS vs. THS – LHSAA 5A Football Playoff Quarterfinal (2018)

(Story)

Nov 12, 2018

HHS vs. ZHS – LHSAA 5A Playoffs Round 2 (2018)

(Story)

Nov 05, 2018

Our Winter Sports Schedule

(Story)

Nov 05, 2018

DHS Football vs. HMHS – LHSAA 5A Playoffs 1st Round (2018)

(Story)

Oct 31, 2018

DHS Football vs. Terrebonne High School

(Story)

Oct 31, 2018

HHS Volleyball vs. Sulphur

(Story)

Oct 12, 2018

DHS vs. H.L. Bourgeois Football

(Story)

Oct 05, 2018

Pearl River vs. Hahnville Football

(Story)

Sep 21, 2018

2018 Battle on the River: DHS vs. HHS

(Story)

Aug 25, 2018

SC Lip Dub 2017-18

(Story)

May 11, 2018

Press Play announces 2018 football season schedule

(Story)

May 11, 2018

Press Play to stream graduation ceremonies this week

(Story)

May 11, 2018

2018 DHS Commencement Ceremony

(Story)

Apr 18, 2018

Student documentary on Confederate monuments advances to national round of competition

(Story)

Apr 18, 2018

WATCH: Lady Tigers advance with win over Comeaux

(Story)

Mar 27, 2018

Three Press Play teams place at National History Day Regional Competition

(Story)

Mar 27, 2018

WATCH: Press Play News Ep. 4

(Story)

Mar 19, 2018

Wildcats complete sweep of Tigers behind Scioneaux's 8 strikeouts

(Story)

Mar 19, 2018

Lady Tigers defeat Destrehan 10-3, push winning streak to 15

(Story)

Mar 19, 2018

Rivalry Doubleheader: Live streaming DHS vs. HHS Baseball, Softball this week

(Story)

Mar 18, 2018

WATCH: Our Latest Newscast

(Story)

Mar 13, 2018

RECAP: Tigers fall short in comeback attempt against Brother Martin

(Story)

Mar 12, 2018

Behind the Scenes: Press Play's coverage of Spillway Opening

(Story)

Feb 28, 2018

HHS Boys, Girls defeat DHS in Dual Track Meet

(Story)

Feb 27, 2018

Lady Tigers Softball falls in pitchers duel 1-0

(Story)

Feb 26, 2018

Student athletes from DHS, HHS sign letters of intent

(Story)

Feb 26, 2018

Press Play recording softball, baseball, tennis and track this spring

(Story)

Jan 26, 2018

Battle on the River – Basketball Edition

(Story)

Jan 03, 2018

DHS vs. HHS Boys Basketball

(Story)

Nov 28, 2017

HHS Lady Tigers Soccer vs. Terrebonne High School

(Story)

Nov 24, 2017

Covington High School vs. Hahnville High School Football (2017 Quarterfinals)

(Story)

Nov 12, 2017

Barbe High School vs. Destrehan High School Football (2017 Playoffs – Round 2)

(Story)

Nov 12, 2017

HHS Boys Soccer vs. Central Lafourche

(Story)

Nov 05, 2017

Alexandria High School vs. DHS Football (2017 Playoffs – Round 1)

(Story)

Nov 01, 2017

H.L. Bourgeois vs. HHS Football (2017)

(Story)

Oct 31, 2017

Press Play announces winter sports production schedule

(Story)

Oct 27, 2017

HHS vs. Central Lafourche (2017)

(Story)

Oct 06, 2017

East St. John vs. Destrehan Football

(Story)

Sep 29, 2017

WATCH LIVE: Terrebonne vs. Hahnville Football

(Story)

Sep 15, 2017

Brother Martin vs. Hahnville Football 2017

(Story)

Sep 14, 2017

2017 St. Charles Parish Middle School Jamboree

(Story)

Sep 01, 2017

Slidell High School vs. Destrehan High School

(Story)

Aug 28, 2017

Press Play Productions to broadcast SCPPS Middle School Jamboree

(Story)

Aug 24, 2017

HHS Jamboree 2017

(Story)

Aug 09, 2017

Press Play Productions announces fall 2017 football schedule

(Story)

Aug 09, 2017

ATVB Teams compete in documentary competition in Washington, D.C.

(Story)