Connecting with Professionals: ATVB team members get advice from the experts
Team members of the Advanced Television Broadcasting course at the Satellite Center had the opportunity to connect with two professionals in the television broadcast and video production industries during their first month of a new school year.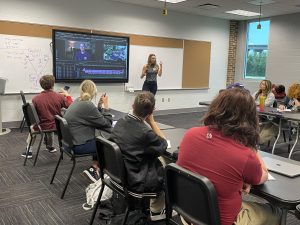 They first met with Amanda Kitch, a Multi-Media Content Producer at Deep Fried Advertising. On August 17, Kitch spoke to ATVB, Interactive Media and Digital Media about the foundations of video production. She showcased examples of her work and provided a step-by-step process of how she started her projects, to how she finished them. Team members were able to get an inside look into the daily routines of a content producer at an advertising agency in New Orleans. Some of the tasks included planning, budgeting, location and talent scouting, as well as video editing.
Kitch also talked about her journey to starting her own freelance company, Media Desperado. She shared stories about entering local film competitions, building her equipment inventory and how to get started.
You can read more about Amanda Kitch here.
Nearly a week after Kitch's presentation, the ATVB team members had the opportunity to meet with Erika Ferrando of WWL-TV in New Orleans.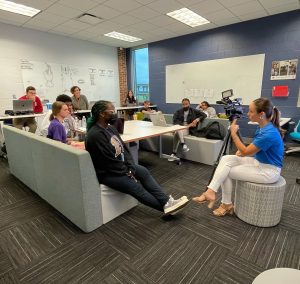 Ferrando's visit on August 26 included conversations about the news industry, the daily workings of a news reporter and details of how to put together a great news package. She showcased several news packages and live shots she worked on throughout the years and broke down her daily routines. She also brought the equipment she uses to shoot video and demonstrated what a sit-down interview would look like. Ferrando was able to provide insight of the steps that team members can start taking now in order to follow the pathway of becoming a news reporter.
You can read more about Erika Ferrando here.
Follow Press Play Productions on social media to get the latest updates on events happening within St. Charles Parish Public Schools and in our Advanced Television Broadcasting course at the Satellite Center!
Twitter: @presstheplay
Instagram: @presstheplay
YouTube: Press Play Productions
Vimeo: Press Play Productions
Thank you so much for watching our live streams, projects and checking out our pictures!