Fall Feature Story
Hang on for a minute...we're trying to find some more stories you might like.
Every year St. charles parish gets ready for BOTR, the battle between the high school rivals, DHS vs. HHS. Its one of the biggest events people look forward to in this small parish. Both high schools having a dance team. It's in fact the one day, both high school dance teams get together, overcoming their long history of being rivals, and performing their best, by trying to pump up the crowd before the big game, each trying to entertain the best way they can.
Lets take a closer look into the teams.These girls work hard year round to perform, and one of their performances is one they do together, which… in a town like this, associating with your rival can be frowned upon. 
Lets talk to the team captain about their performance during botr. How do you prep your girls for BOTR? "Um I guess just telling them you know its just a game, we're there to dance we're there to support our boys, and if things don't go the right way I mean theres always next week normally, not the case in playoffs but we've been doing pretty well so."
Do you think dancing with the destrehan dance team takes away the tension if there is any? "Oh definitely I know between the dance team girls there normally isn't, I know we have our own competitions towards January but during football season we're very friendly but I feel like this kind of brought away the tension from the rest of the game for the rest of the parish seeing us fighting against each other but also working together."
Before the performance were there any concerns about them trying to steal the show, or did you guys work together? "Um there weren't any concerns about them trying to steal the show we worked together the best we could, it was kind of hard because that week we had to teach three dances and we didn't have that much time to actually practice together but when we did practice together it did come together and things did turn out really really well."
Did you enjoy the over all performance? "I did, the sound system didn't really work how we thought it would but I did enjoy being able to perform with – I do dance with some of the girls over there so I enjoy being able to perform with them on the football field."
These girls have dedicated themeselve's to make a great performance, and it defenitely paid off. 
I'm Alyssa Leggett, and Thats it for my feature story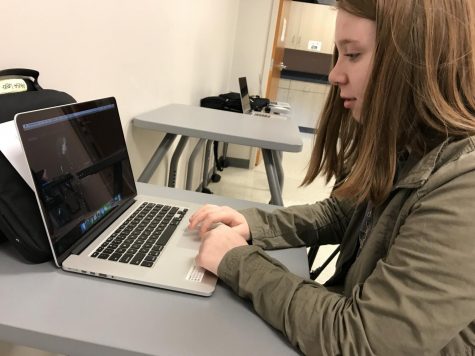 Jo Leggett, Camera, editor, director


Hello, I'm Jo Leggett. I'm a senior at Hahnville High School. I'm excited to be working here at Satellite Center. I'll be working behind the...