Press Play announces 2018 football season schedule
Hang on for a minute...we're trying to find some more stories you might like.
Luling, La. – Our crew is excited to announce our schedule for the 2018 football season.
Since the Destrehan High School Jamboree is on the road at Lutcher this year, our crew will record the Destrehan High School scrimmage vs. Salmen on Friday, August 17th. That game won't be live-streamed, but will be available the next week on Cox Cable Channel 8 and vimeo.com/presstheplay.
Our crew will also be broadcasting the Hahnville High School jamboree on Thursday, August 23rd vs. the Jesuit High School Blue Jays. Like the DHS scrimmage, that game won't be live-streamed, but will be available on tape-delay.
Our first live-streamed game of the year will be the matchup between Hahnville High School and John Ehret High School on Friday, September 7th. The Patriots were one of two teams to beat the Tigers before Hahnville went on a win-streak that ended with an appearance in the state championship game. Last year's game was a shootout that Ehret won at home 46-41.
Following an off week, the crew will also live-stream the 2018 Battle on the River between Hahnville High School and Destrehan High School from Tiger Stadium on Friday, September 21st. The Tigers defeated their rivals 20-13 last year, ending a streak of four straight wins by the Wildcats.
That game begins District 7-5A play for both teams. All district games that follow will be live-streamed including Destrehan's games against Thibodaux (September 28th), Central Lafourche (October 12th) and Terrebonne (November 2nd). Hahnville's non-district homecoming game against Pearl River on October 5th will also be streamed, in addition to the Tigers' rivalry game against East St. John on October 19th.
To recap, here is our full season schedule for the 2018 season:
August 17th: DHS Scrimmage vs. Salmen (tape-delay)
August 23rd: HHS Jamboree vs. Jesuit (tape-delay)
September 7th: HHS vs. John Ehret
September 21st: Battle on the River – DHS vs. HHS
September 28th: DHS vs. Thibodaux
October 5th: HHS vs. Pearl River
October 12th: DHS vs. Central Lafourche
October 19th: HHS vs. East St. John
November 2nd: DHS vs. Terrebonne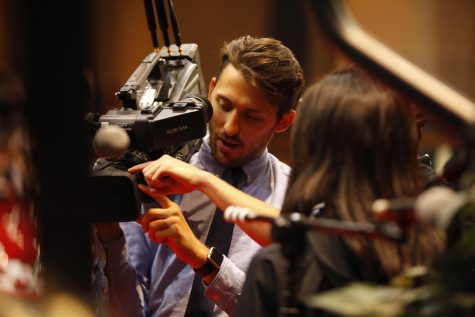 Hunter Robinson, Adviser
Hunter Robinson is the Facilitator of the Advanced Television Broadcasting course at the St. Charles Parish Public Schools Satellite Center in Luling,...