Student athletes from DHS, HHS sign letters of intent
Hang on for a minute...we're trying to find some more stories you might like.
LULING, LA – Nine student athletes from high schools in St. Charles Parish signed letters of intent to play collegiate sports on National Signing Day in early-February.
Among the nine are three football players from Destrehan High School. Wildcats Offensive Lineman Samson Matthews signed on with the West Hills Community College in California. Matthews thanked his family and coaches at the ceremony at the Professional Learning Center on Hwy. 90 in Luling.
"I want to thank my coaches for instilling hard work and dedication," Samson emotionally explained.
Samson's teammate, Jabril Fields, signed his letter of intent to play defensive line for Millsaps College.
"I remember over the summer, me and Sam and J.R. would just be sitting at McDonald's talking like, 'Man we're about to be on our last year'," Fields reminisced. "We just kept working hard, believing in everything Coach Borne and the rest of the coaching staff told us to do, and the hard work is paying off."
While Samson and Fields are both headed out of state, Wildcats safety Macon Clark will be playing his college ball closer to home after signing with Tulane University.
"I mostly want to thank my family," Clark said. "My momma, always so hype in the crowd, and my dad for pushing me so hard."
Hahnville also had three players sign to play football at the collegiate level. Offensive lineman Larry Dixon and wide receiver Jamal Byrd will continue to be teammates for the next four years, since both Tigers signed on to play for the Southern Jaguars in Baton Rouge. Most notable, Tigers standout running back Anthony "Pooka" Williams, one of the most recruited players in the state, signed to play with the University of Kansas.
Wildcats Offensive Coordinator Greg Boyne is relieved his team won't have to play these three Tigers again.
"I'm just going to be honest," Boyne candidly said while gesturing to the HHS table. "I'm glad to see you leave, I'm glad to see you leave, and I'll come help you pack, and pay for the Uber to get you to Kansas.
Two Hahnville student athletes, Alexis Caillet (cheerleading) and Alexis Tamplain (swimming) will be attending Loyola University. The ninth HHS athlete signing is cross country runner Emily Blanchard who will be running for the Northwestern Demons this fall.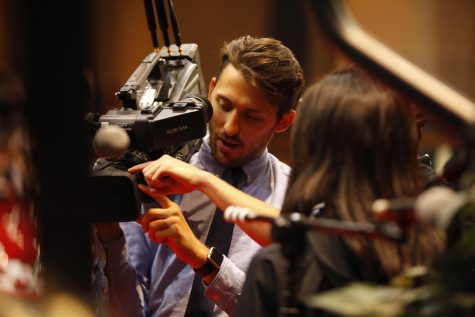 Hunter Robinson, Adviser
Hunter Robinson is the Facilitator of the Advanced Television Broadcasting course at the St. Charles Parish Public Schools Satellite Center in Luling,...