The underdog Tigers come through with the win at the Battle on the River
Hang on for a minute...we're trying to find some more stories you might like.
DESTREHAN, LA – It was a memorable moment for Hahnville football fans when their team took the first win in 5 years against DHS at the Battle on the River on September 22, 2017.
The loss left Destrehan with a drop to a 2-2 record and bumped Hahnville up to an even 2-2. They each have 6 more games to make it to the playoffs.
Hahnville used the strategy of running at the Wildcats for this game. Senior running back Anthony "Pooka" Williams was a major player in this, achieving a major 55-yard run on his second score. Quarterback Jha'Quan Jackson scored the team's second touchdown when he broke loose for a 64-yard run in the first quarter; the first touchdown was made by Williams, and both had a successful field goal from Thomas Rasco, giving Hahnville a good 14 points on the board with 1:46 left in the half.
Destrehan had a slow start in the first half, only earning three points before halftime. There were a couple of attempted field goals by kicker Phillip Stratton. Otherwise, though their offense moved the ball well, they would fail to take advantage of their opportunities.
The Tigers got ahead 20-3 when Williams ran a 55-yard touchdown. Destrehan once again used Stratton to earn another field goal, adding another 3 points on the board by the end of the third quarter. The only Wildcats touchdown was scored by Quarterback JR Blood and followed by a successful field goal by Stratton with 7:36 left in the game.
In the end, Blood completed 17 of 29 passes for 178 yards with one interception, and John Emery finished with 89 yards on 14 carries, but the Tigers' defense kept him out of the end zone.
With 401 yards of total offense, Hahnville ended this game with a winning score of 20-13. Williams himself commented afterwards, "This win says a lot about the character of our football team, because we were the underdog, and everybody expected Destrehan to win. We came out here and handled our business and came away with the win."
Destrehan Coach Stephen Robicheaux commended Hahnville's victory, "Hahnville did a great job, and hats off to them."
This Friday, Sept. 29, Destrehan will take on Thibodaux and Hahnville will host Terrebonne for a game on Sept. 29, both with a 7 p.m. kickoff.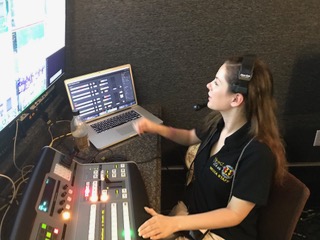 Sage Blackledge, Director
My name is Sage Blackledge. I am a senior at Destrehan High School, and I am part of the Film Club, Mu Alpha Theta, and President of BETA. I also volunteer...